Affordaplane Eagle's Nest
Here we showcase just a few of our many builders and fliers who built their own Affordaplane aircraft and fly them regularly. You are an inspiration and we salute you!
Terry Adair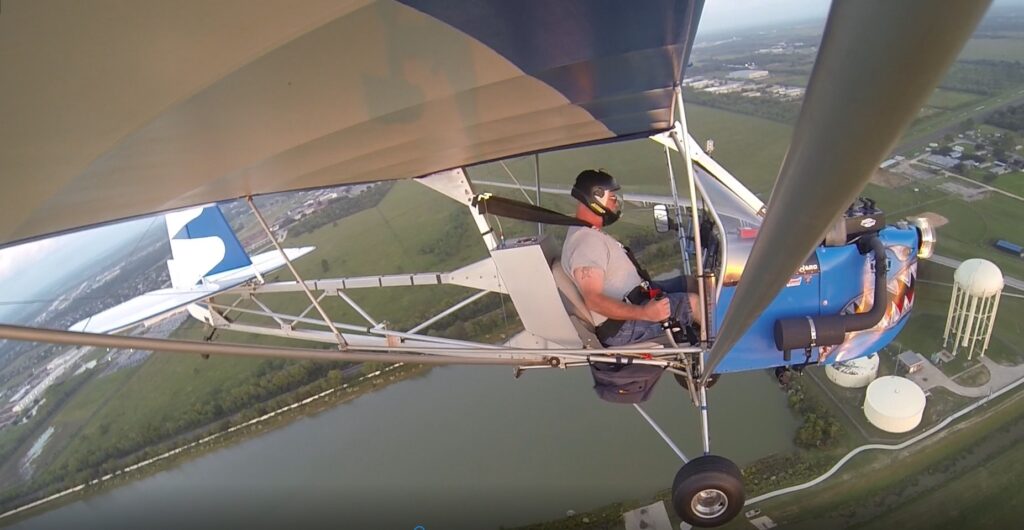 My name is Terry Adair and I have been in love with aviation since my first flight with my father many years ago. I have enjoyed many hours flying and attended many airshows including Oshkosh and Sun n Fun since then. The time finally came that I wished to build and fly my own airplane. The goal was minimal expense, ease of build, and a hassle-free construction experience. My search led me to the Affordaplane, a plans-built ultralight designed by Dave Edwards.
At first I was skeptical as to whether I could complete it, but I made my first part and then another and another, before I knew it, TA-1 was born (that's what I call my little airplane). I had built an ultralight airplane from raw material right in my garage and now it was time to take her to the airport and start the next phase, become a test pilot.
I spent several hours with my Affordaplane going up and down the runway developing my skills. It was all a bit scary initially, but well worth it. Once I was airborne, she flew very well, so much so that I wondered why I was so worried about making the first flight.
I have since put numerous hours of flying on it and I'm still enjoying every minute of this little bird. Dave Edwards' plans have made my dream of owning and flying my own plane a reality. Additionally, sharing the adventure online with the Official Affordaplane Facebook group has connected me with many other builders and enthusiasts worldwide. All in all I have made many new friends and have a swift little plane to fly any time I want. Note: Terry also runs the Affordaplane Store, check it out!
Shawn Wiedenhoeft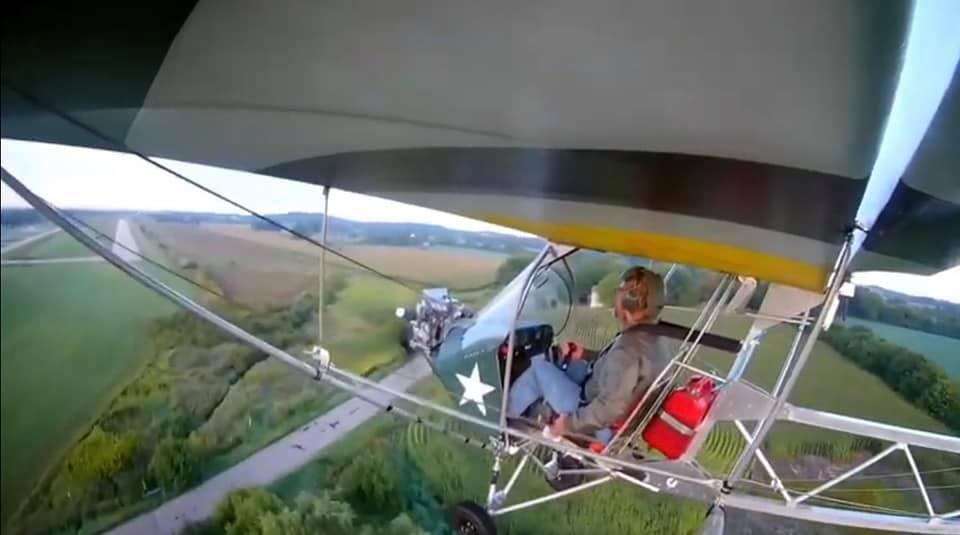 I started my A-plane build in my one car garage and it took me about 4 years to complete. I built the wings first because I knew I could hang those from the ceiling and I'd still have room for the fuselage. Even though the plans are very thorough and well drawn, when you're building you still need to make thousands of decisions that make this airplane your own.
The things that make my A-plane different are the wings, the landing gear and, of course, the half VW engine. The wings are different because I used aluminum ribs but I shaped them to the "Clark-Y" profile used for foam ribs. I took out the "valley" between the ribs by adding a 4″ x 12′ c-channel crosspiece that I made from flashing. Its attached to each rib at the top of the chord.
My spring landing gear I designed myself using scooter shock absorbers.
I built the half VW engine myself, wanting to get the most power out of the least weight but still having a 4-stroke motor. I used the full case for oil capacity and just blocked off the rear cylinder holes and the flywheel hole with 1/8 aluminum plates. I also trimmed most of the flywheel bell housing off of the case. The two cylinders are 94mm aluminum rather than steel for heat dissipation. I have two 28mm mikuni carbs that are tuned. Finally I went with dual ignition for safety and added hp. One of the problems with using a half VW engine on the A-plane is that its hard to fit in a magneto on the flywheel end of the case with the centerline frame of the A-plane. I went with using a traditional distributor and a secondary ignition that runs off the oil pump.
If you're not an experienced pilot with some aeronautical training, the closer you stick to the plans, the better.
I have about 1.5 hours flight time on my plane since I put the VW on and I couldn't be happier. Its a great design and an awesome airplane!

Robert Kroemer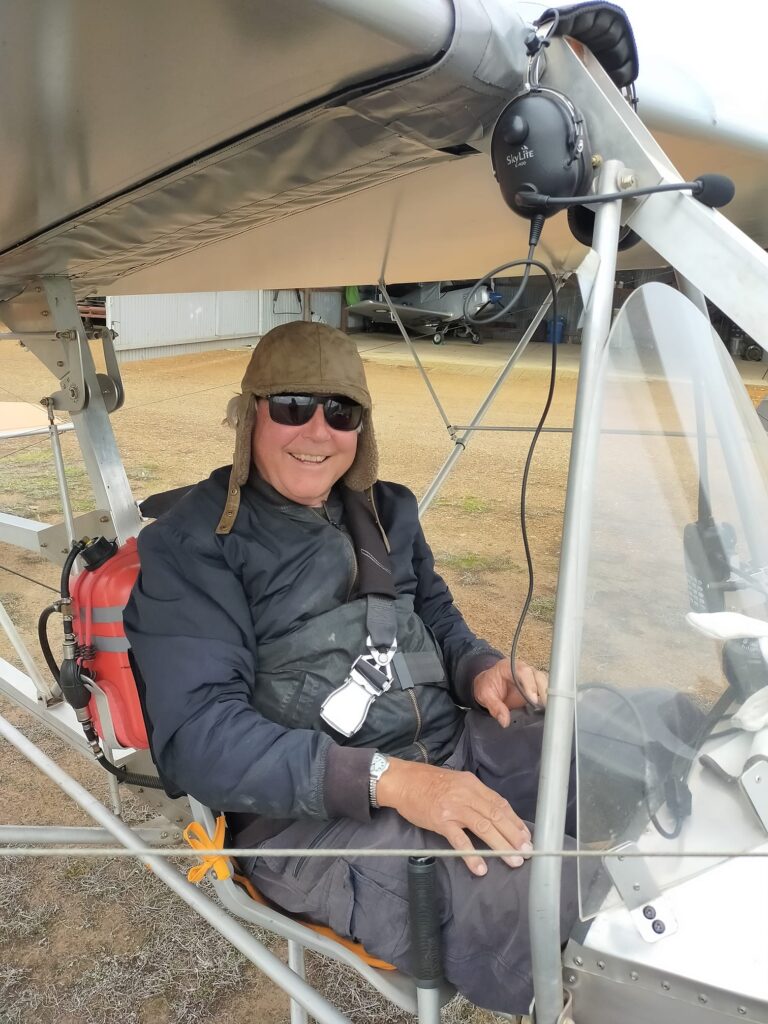 I started building the Affordaplane back in 2017 after a spell in hospital. I left hospital with a greater energy to follow my dreams. My dreams being to build my own little flying machine. My interest in aviation included RC building and flying and a stint in the seventies flying gliders. I had never flown a powered plane.
But what to build? I had the plans to a Mike Sandler Goat but on the net l discovered Dave Edwards Affordaplane. It's simplicity appealed to me and l thought this is it. A good friend lent me a building table and l drew the outline for the fuselage. Ordered materials and l was away. I will mention that sourcing materials in Australia was a challenge but was quite do able using the Net.
I acquired a 377 Rotax and soon my little machine was completed. I didn't change a thing from the plans with the exception of using push rods for the ailerons instead of cable's. And l guess l fitted wheels with a hand brake but these are hardly necessary.
2019 I gained my recreational pilots license and soon after flew the Affordaplane after a mate had flown it and gave me the thumbs up. Since l have flown it over 50 times and have enjoyed ever flight. Pushing myself to now fly in moderate winds and during the middle of the day. I feel safe in my plane and find it very easy to land. It climbs at 500 ft min at 6200 rpm. Cruising at 60 mph at 5800 rpm. I approach at 60 mph and with throttle off land at 24 mph. A great little machine and l look forward to many more hours of flying in the future. A credit to the designer Dave Edwards.

More Eagles to come!
Affordaplane Construction Plans