Affordaplane Plans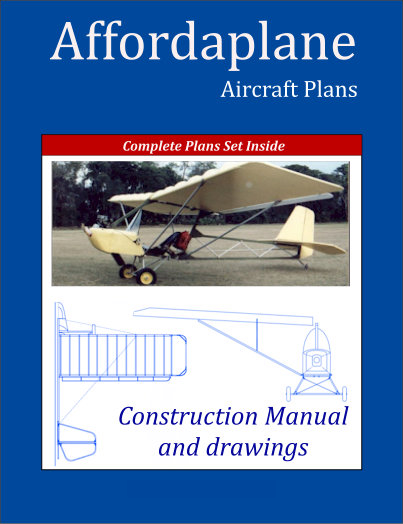 The Affordaplane Plans package contains 173 information packed pages, and everything you need to build your own Affordaplane aircraft is included.
The Construction Manual is 68 pages of detailed photos and step by step instructions.
The manual also includes an article on aircraft hardware, how-to information like how to cut metal, how to cover and paint your aircraft, weight and balance procedures, and much more.
The prints are 105 pages of easy to read, clutter free drawings. Every fitting is drawn full size with dimensions given. The airfoil is also drawn full size with ordinates. A complete materials list is included.
Builder support is included with the low price of these plans. Plus we have a large Facebook group where all things A-Plane related are discussed. Twenty two years of experience and feedback from our builders (and a 100% safety record) have made these Construction Plans as complete as they can be. The Affordaplane is grass roots aviation at its best. And she may just be your ticket to the sky.



You have three options to get your own set of Affordaplane Plans:
Digital Plans: Complete plans sent to your email address immediately after ordering. Your Affordaplane plans are sent in PDF format, and you can view and print them with the free Adobe Reader.
Plans On CD: Affordaplane Plans Set on CD.
Printed Plans: Professionally bound, 173 pages. Sent Priority Mail.
Ordering:
Simply click on the link below, and it will take you to our secure order page. We accept all major credit cards, including Paypal and debit cards. After ordering, you will be taken to a page where you can instantly download your Affordaplane Plans Set. You can review your order at any time. It's that easy!
BUY AFFORDAPLANE PLANS

Digital Plans
Digital plans download available immediately upon purchase $19.99.

US Customers
Purchase Plans on CD $29.99 + Shipping (USPS Flat Rate $7.35)
International Customers
Purchase Plans on CD from our eBay Store $29.99 + Shipping (varies depending on location)

Printed Plans (**US Customers Only**)
Affordaplane bound and printed plans $69.95 + Shipping (USPS Flat Rate $13.75)
Please allow 3 days handling time.
Printed Plans (International Customers)
International orders are not available at this time due to Covid restrictions.